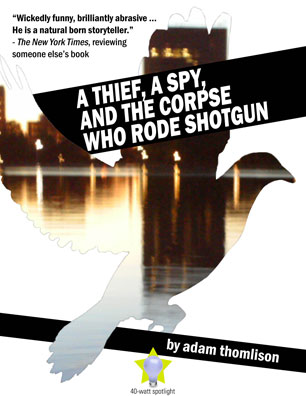 In A Thief, A Spy, and the Corpse Who Rode Shotgun, a Canadian public servant gives sensitive information, and her sensitive heart, to the Danes.

Meanwhile, across town, a smalltime criminal with a loser's lust for winning is leveraging his nuts against the biggest score of his life.

When their twisted and dishonest paths converge at the front door of a condo tower, will they -- and their flexible, low interest mortgage rates -- survive?

Adam Thomlison's writing has been called "sparse and luminescent," and "a concentrated burst of humour and melancholy." He's also the author of We Were Writers for Disastrous Love Affairs Magazine, and the ongoing zine series The Last Thumbnail Picture Show, and the editor of the anthology These Are Not Movies: Screenplays for Films That Will Never Be Made.
Intrigued? Buy the ebook here!

Or buy it in print:
go home.